Among the many different project management tools available today, Trello and Jira are the most popular ones. We asked Kirill, one of our project managers, for some tips on choosing the right tool for your team.
What are their similarities?
-   Both are used to manage flexible teams: Kanban and Scrum.
-   Both offer free options for limited-size teams and with a limited number of extensions.
-       Both have interfaces for tracking the project team progress.
-       Both provide convenient communication between team members.
-       Both offer applications for iOS and Android.
-       Both can be integrated with other services.
What tasks are best suited for Trello?
We have identified at least three types of tasks for which here at Mercury we usually use Trello.
Personal task tracker
Mercury managers routinely use this service as a daily planner. Trello cards are very convenient for noting down your ideas and setting tasks for the week. Kanban allows to visualize the progress of individual tasks, and the Calendar extension makes it easy to manage weekly and monthly workloads.
Managing smaller projects
Trello is an ideal tool for organizing small teams working on simple projects that don't require automation and reporting. The simple interface and the service flexibility allow to quickly create a transparent workflow.
Business process management
Trello's user interface can easily be configured for different tasks and departments: marketing, design, external consulting, or support services. Task automation and reporting capabilities are usually not required. To work comfortably with the product, general visualization of workflows is quite sufficient.
On the whole, the product offers a flexible solution for managing business projects in different areas, such as marketing, education, design, engineering, and many others. For these purposes, the service offers various extensions (Power-Ups) which, in combination with Trello interface, create a convenient project management platform.
With the free version, you can only select one Power-up, but this is usually quite sufficient for smaller teams with a limited pool of tasks and few team roles.
In our company, we use Trello in combination with Butler, which is a bot that helps to automate your work and create your own workflow. It can be trusted to handle repetitive tasks, which saves a lot of time when working on a project.
Trello is a systematized list of notes with a user interface adapted for small digital teams that do not use comprehensive technical processes. It will be a good fit for anyone who wants to jump into work right away. You can learn your way around the interface in less than a day, and the paid version of the product comes with additional components that allow to fine-tune the workflow for a cross-functional project team and customize the tool for a variety of business tasks.
What tasks are best suited for Jira?
There are several types of projects that can benefit from being managed in Jira, but we combined all of them into one.
Technically complex projects
Jira's user interface is less convenient as compared to Trello. Working with the system involves a large overhead: there are many actions that do not solve the main task but still need to be performed just to be able to work in Jira.
In addition to that, this product is more difficult to configure. While in Trello you can get all set up and ready to start working within an hour, in Jira this won't be possible. A manager will need some time to first set up the working environment in accordance with the project's tasks, and then explain the workflow to the team.
Working in Jira is so complicated because this service has very comprehensive functionality that allows to manage complex multiple-role projects where automation and reporting play a crucial part.
Here is a list of possibilities Jira offers to its users:
-       The system will assign numbers to tasks and can generate detailed reports on tickets, which are Jira's structural units similar to Trello's cards.
-       Task descriptions in Jira tickets can be several times longer than in Trello, taking up multiple pages.
-       The product allows to restrict access to a project and to configure the workflow according to the team's goals.
-       Jira automatically checks input data and can predict your next action.
-       This service provides comprehensive reporting functionality: you can create Burndown diagrams and roadmaps that are similar to Gantt charts, you can also track releases and export sprint reports.
Jira programming language, JQL, deserves a special mention. It allows to create custom filters for project tickets. With such a filter, it will take the development team lead just a couple of clicks to find how many critical bugs were reported in the project over the last three months, and draw the conclusions.
But the most important thing is that the standard tool set is available even in the free version of the product. Paid subscription will give you more space in the cloud storage, extended functionality, and the ability to add third-party applications from the official store.
When working on IT projects, we usually integrate Jira with third-party services. The most frequently used ones are Gitlab, Slack, Jenkins, and Zendesk.
Jira is better suited for large-scale technical projects with many roles. Unlike its competitor, it provides automated workflow, detailed reports with graphs and charts, and error management. In Jira, you can select between local and cloud hosting, which may be useful for companies running their own servers.
Jira is essentially a database. This product was developed for larger teams and complex projects.  Before you can work comfortably with this tool, you'll need to spend a lot of time configuring it and creating a suitable workflow.
Advantages and disadvantages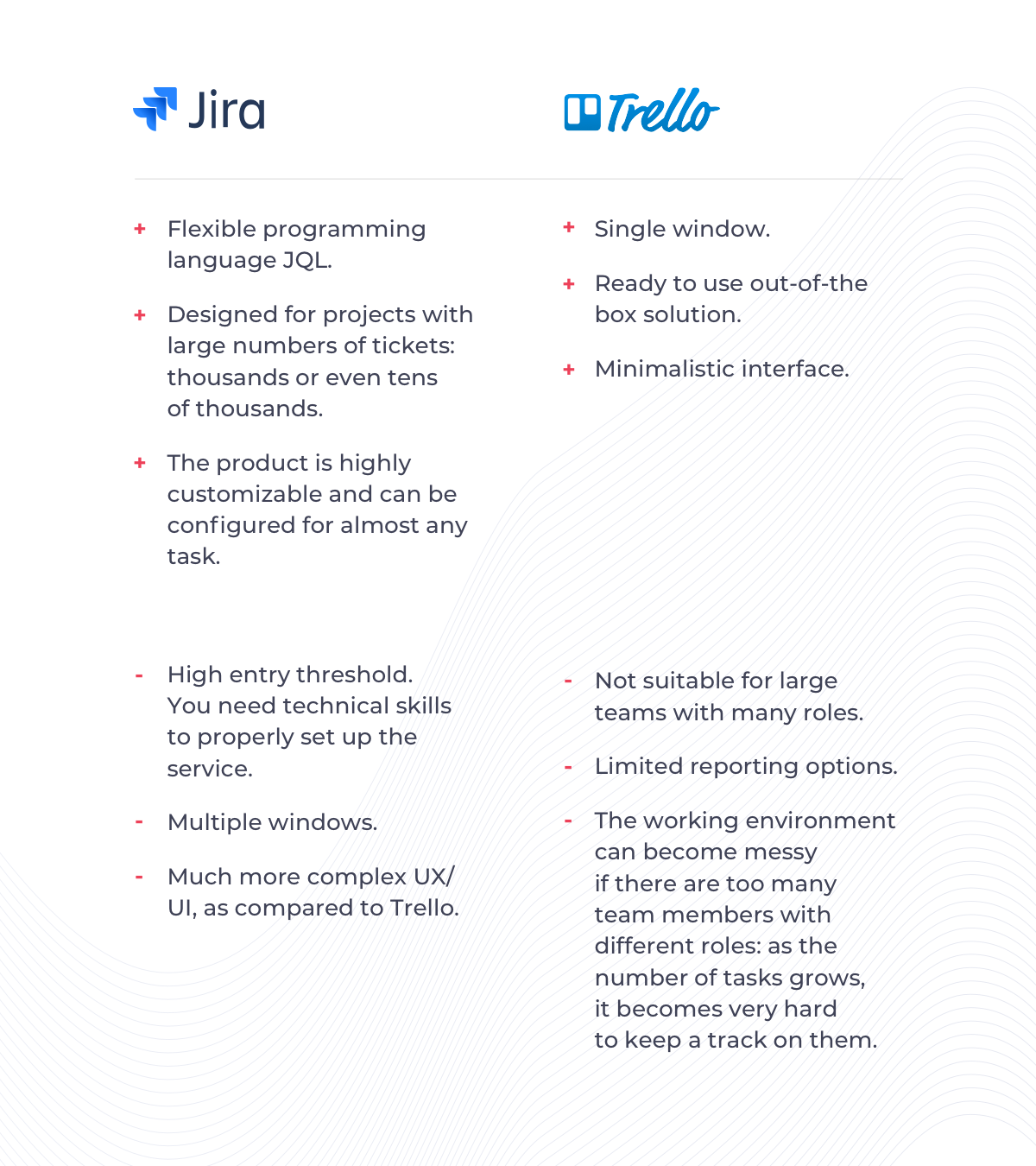 Pricing
Now let's touch upon the pricing policy of these two products, which is quite interesting. Most often, the Jira solution is purchased by companies with 100-500 employees, while Trello is used by smaller teams. Correspondingly, Jira subscription starts from $10 a month for up to 10 users, while Trello costs $10 per user per month. The developer of these two products is looking to make money by providing the same value for users of both products.
So, what should I choose?
You should choose Jira if...
...you are a team of ten working on a complex technical project: writing software for a new robot vacuum cleaner, or a pregnancy tracker app.
Or maybe you are a manager in a large company and you are looking for something to help you organize a multi-role team. For example, your project team has software developers, QA engineers, and business analysts, and you want to bring them all together in a single workflow.
You should choose Trello if...
…you need to organize the work of a small digital team in a short time. Perhaps you are setting up advertising for a company, or launching a new product, or need a convenient CRM tool
Or maybe you need to organize yourself. We use Trello as an advanced self-management tool, and we very much like the flexibility it offers.
Let's sum it up
Selecting the right tool always depends on how you intend to use it. Some people may be inclined to select the service that offers more comprehensive functionality, thinking that it will bring better results. However, the key here is not to go over the top: there is no point in using a complex tool for simple tasks.
Complex functionality makes sense only when the overhead of integrating it into your business process is less than the losses incurred in its absence. From our experience, the simpler the solution, the better the results.