Giving presents feels almost as good as receiving them, especially when it comes to welcoming new employees. In this post, we would like to share with you why here at Mercury we put so much effort into a present for someone we don't know, drew dozens of space cats, and even searched for and found a borsch that comes in a toothpaste tube.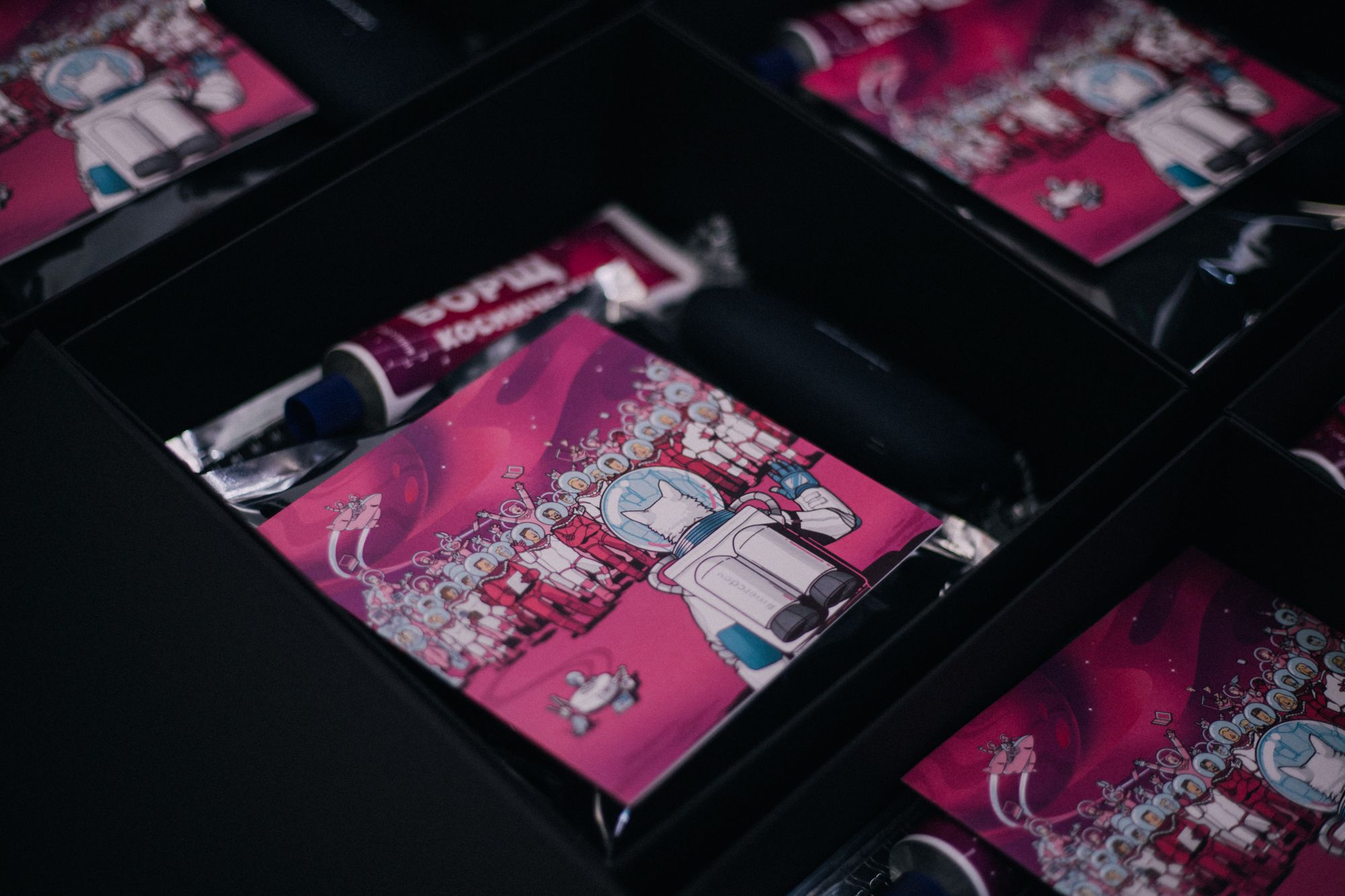 Designing our kit
This is how we started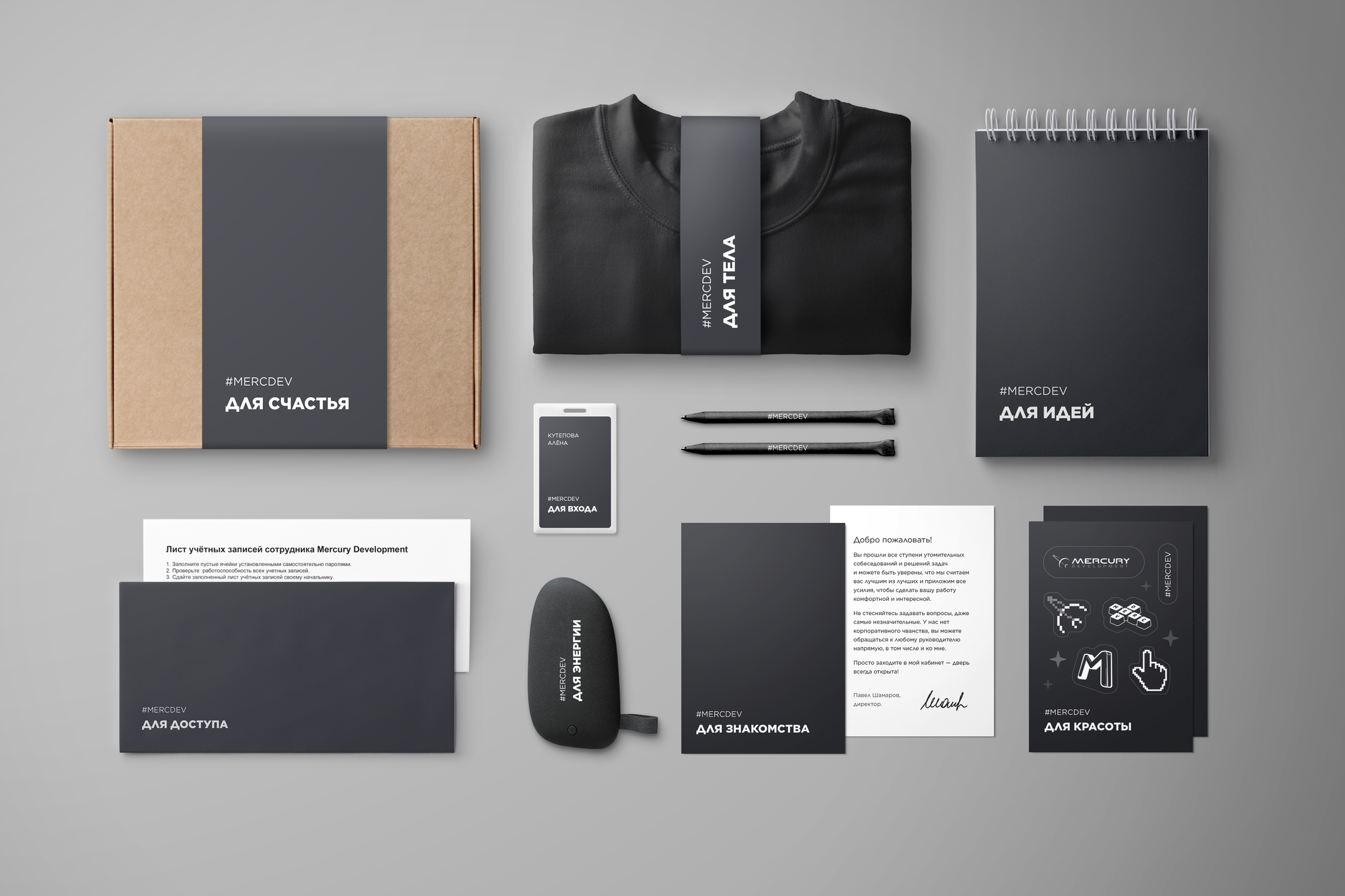 The first version of the design was very minimalistic, but not quite in line with our corporate style. So we discarded it right away.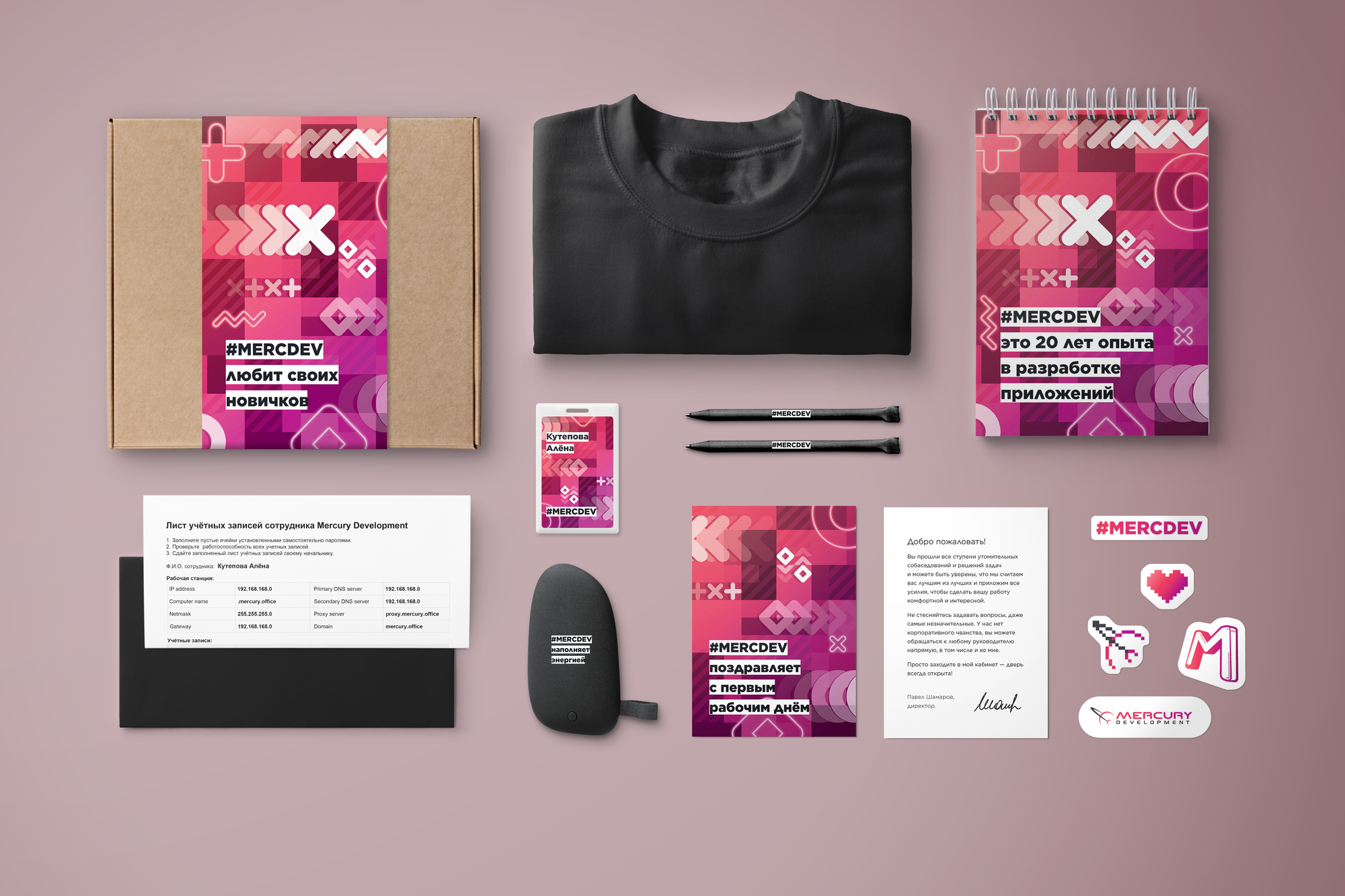 This time, the colors were just right, but something still felt off. So we got rid of all those buzzwords and replaced them with images. We decided that phrases like "#mercdev loves new employees" carry no value: the way a company treats new hires should be communicated nonverbally, and corporate platitudes just make everything worse.
So this is what we finally came up with: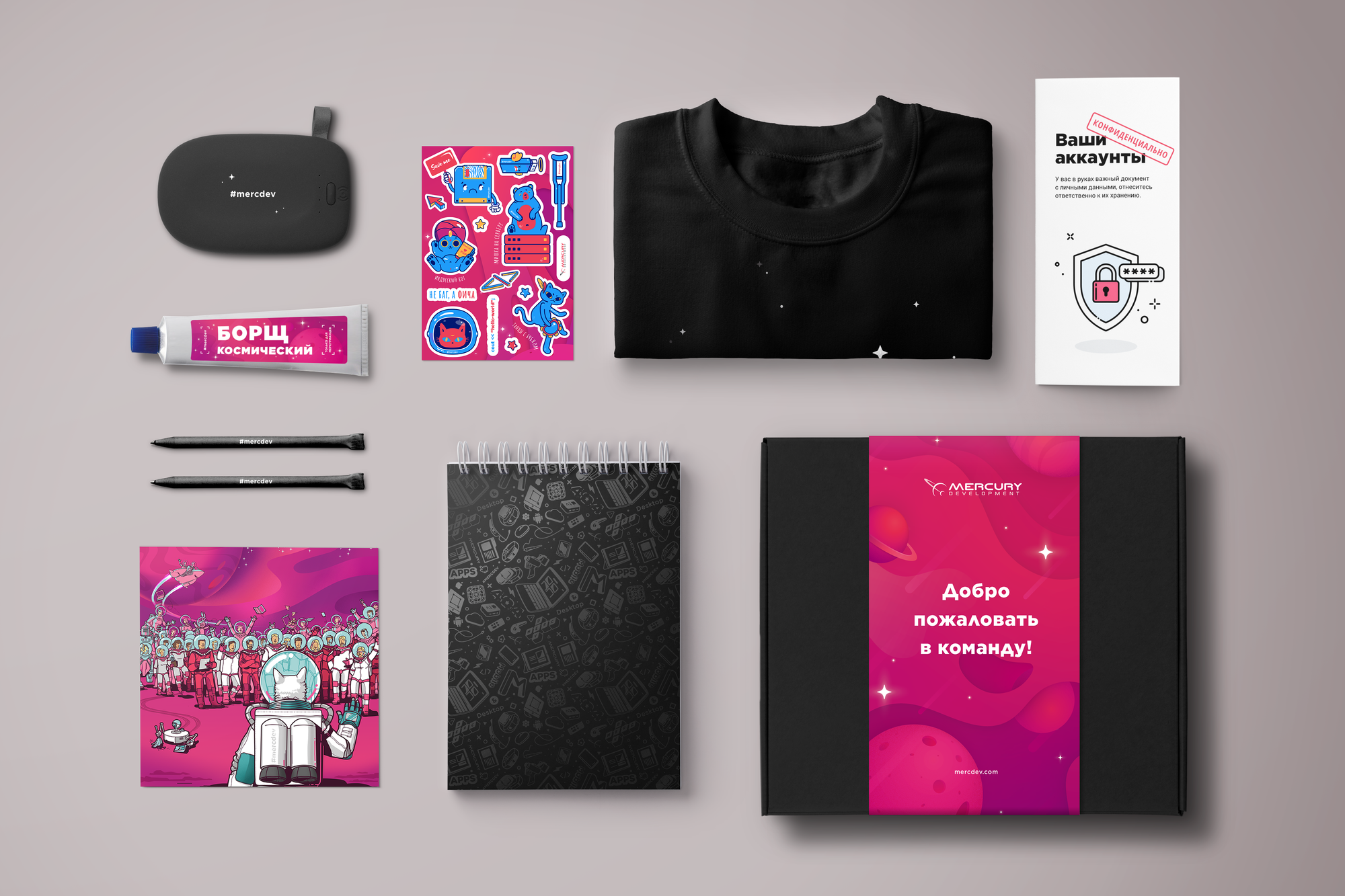 We revamped the design, added a tube of borsch, changed the color of the box, drew some cat stickers, and our project was ready for release.
What's inside our welcome kit?
A power bank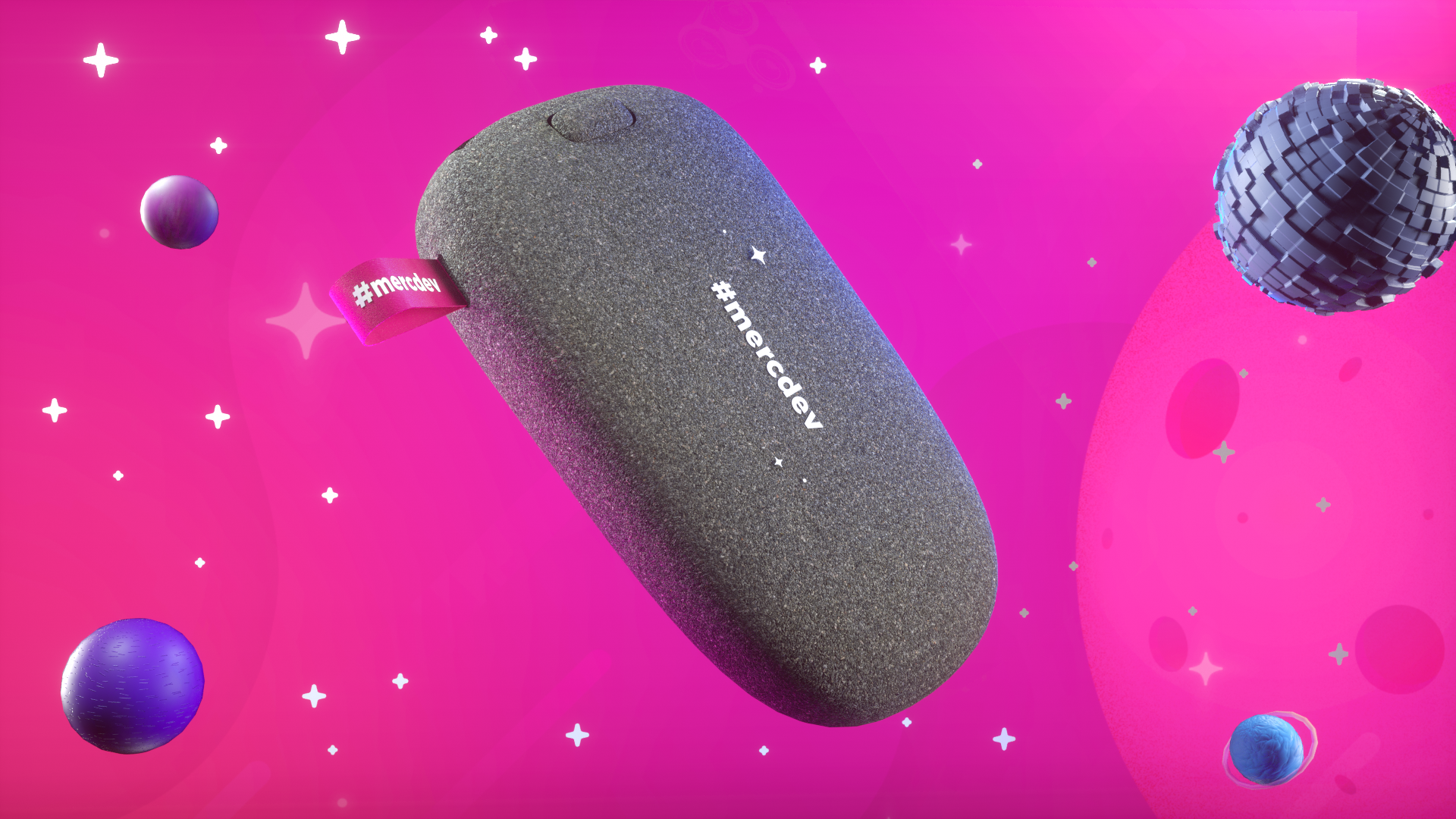 When we opted for a power bank, we were not going for originality. It just seemed like a must-have: everyone has a smartphone, and a good external battery will always come in handy. We managed to find a pebble-like device that feels good in the hand and comes with a powerful 9000 mAh battery and a three-in-one USB-C, Lightning, and micro USB cable.
The main feature of this power bank is wireless charging. The device turned out to be quite useful, beating many of its lithium-ion competitors both in looks and functionality.
A sticker pack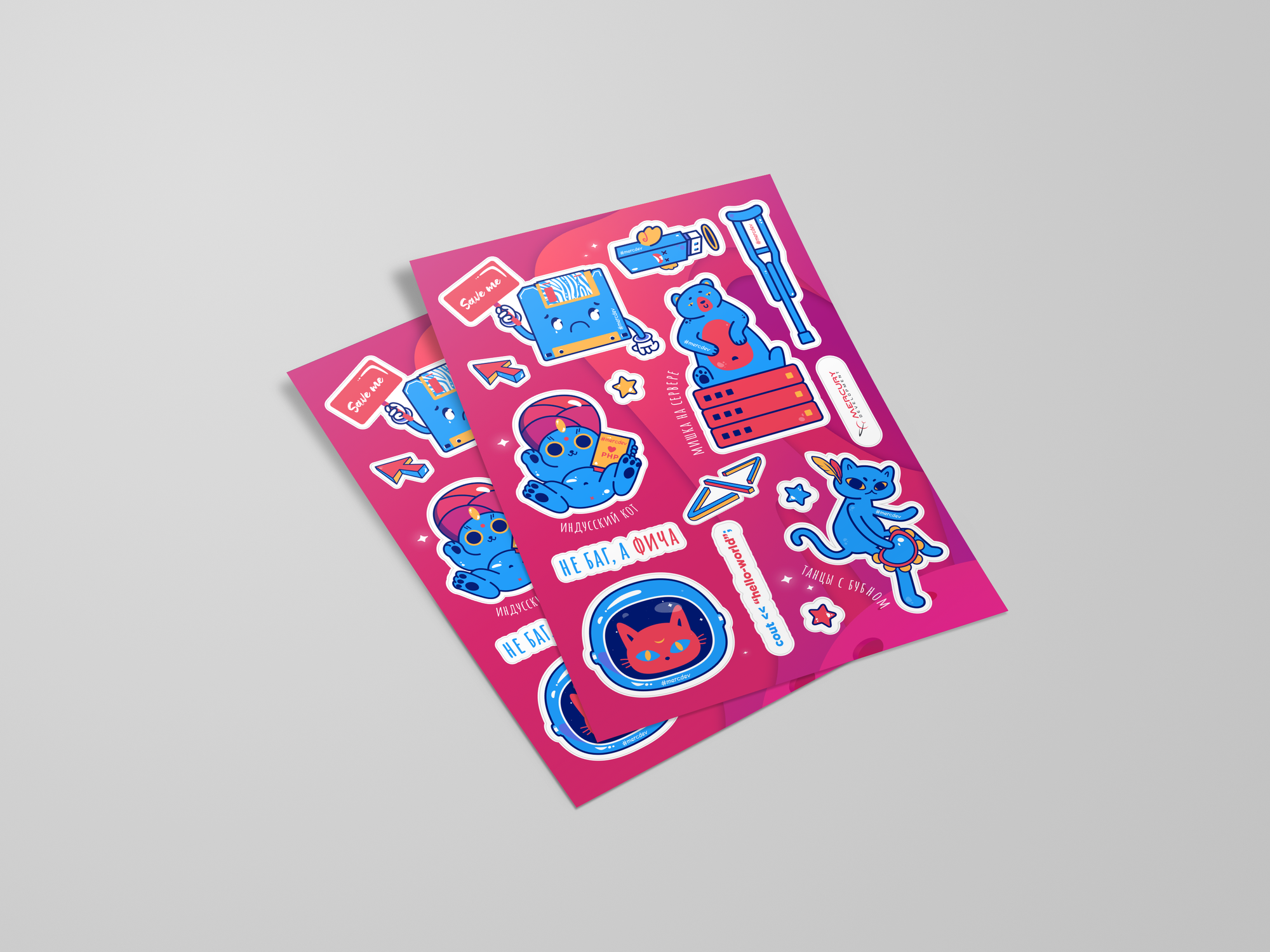 We really like to decorate our monitors and laptops with stickers – this creates a cozier atmosphere. Our company had needed its own sticker pack for a long time, and our welcome kit was just another reminder.
Space borsch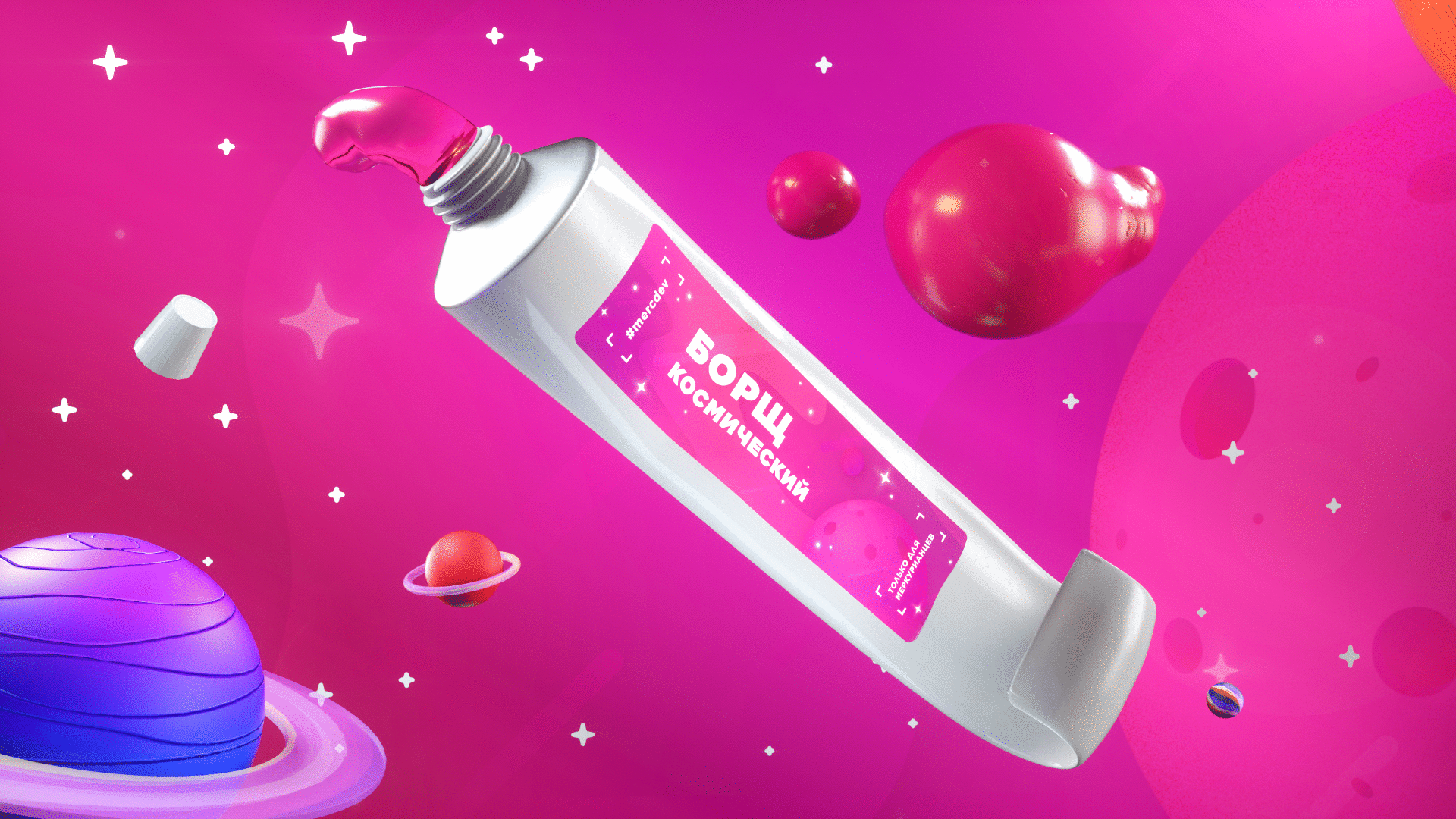 This is the highlight of our welcome kit! "Space borsch" is the official name of our corporate color, invented by our designers. These two words incorporate several meanings: the one-of-a kind shade of violet and pink, the space theme of the Mercury brand, and the traditional Russian soup, as a symbol of the company's beginnings. So we decided to find a borsch that comes in a toothpaste tube and impress our new employees with this unusual souvenir.
A notepad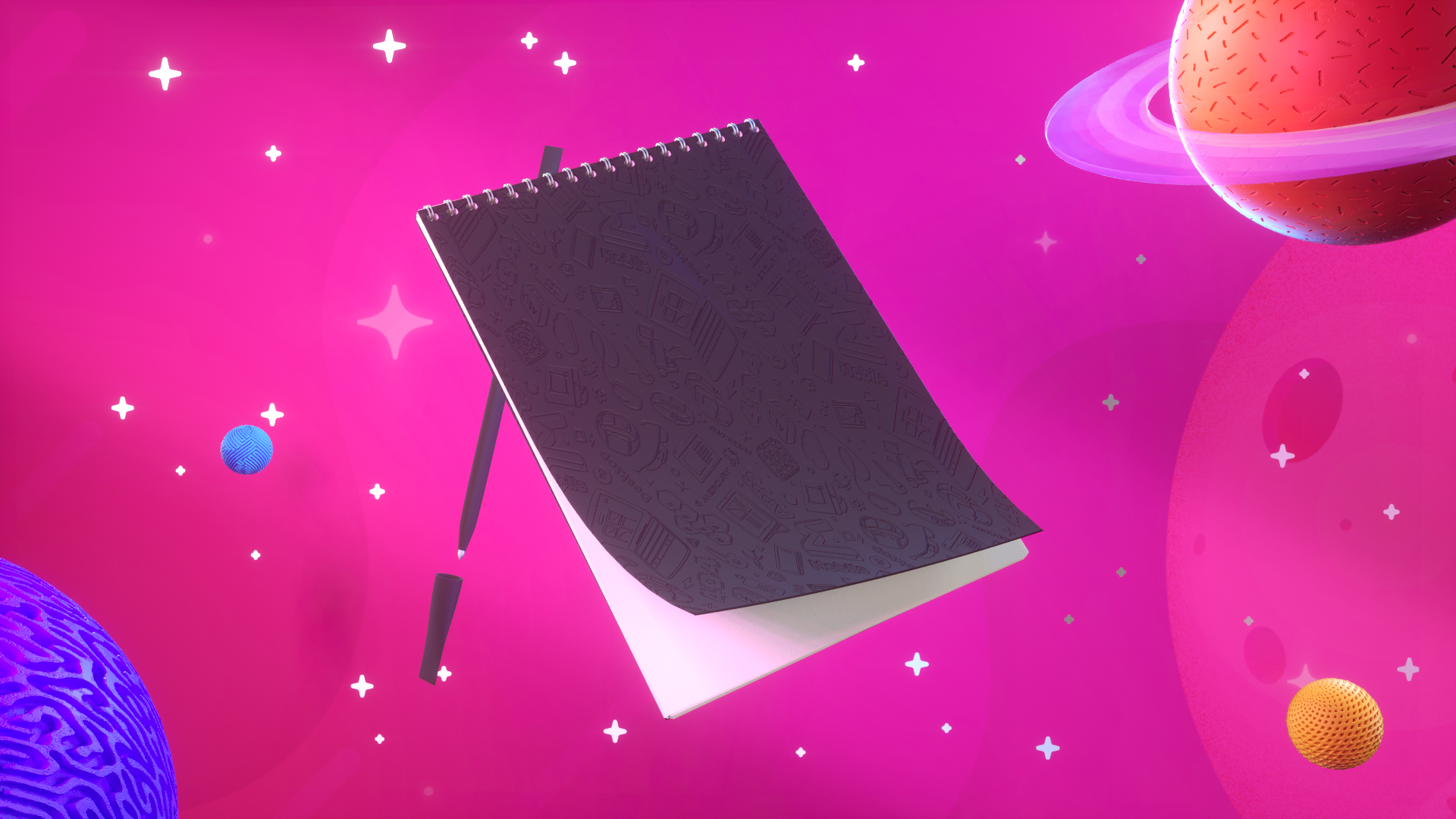 Like it or not, basic office supplies remain in demand — many people still prefer to jot things down on paper. So we just tried to give a touch of originality -- and a nicer feel -- to the traditional pen and notepad. Instead of regular plastic pens, we opted for minimalistic eco-friendly ones, and went with an embossed notepad cover, which feels much nicer to the touch.
A welcome card
Some companies will put a copy of their employee handbook into their welcome kit, so that employees can learn about company history, policies, and other important things. For Mercury, printing employee handbooks makes no sense, since all information can be found online in our company Wiki. But it didn't feel right not to give any welcome message at all, so we decided to add a card with an unconventional message from the company's CPO.
A crib sheet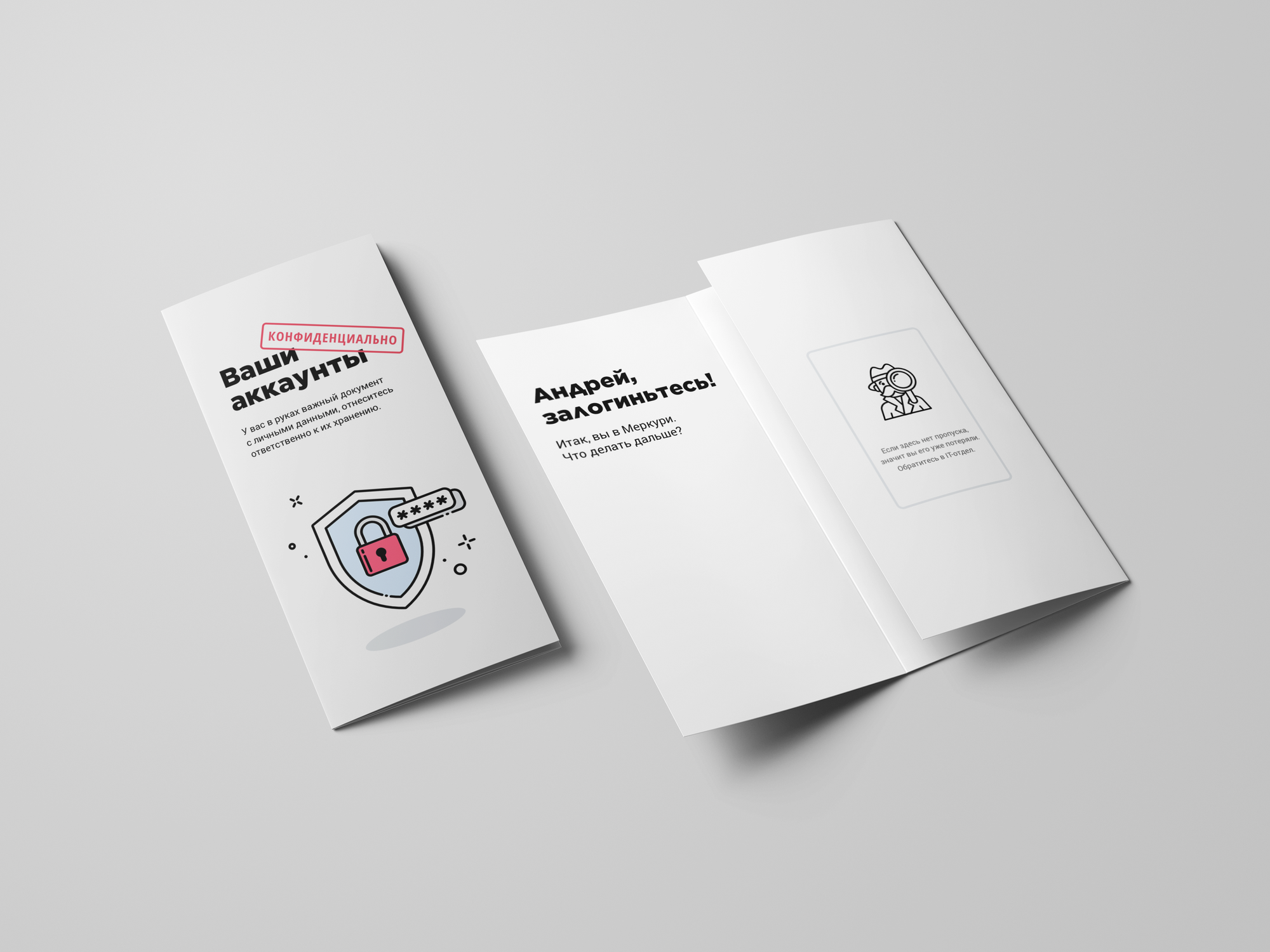 This is a small addition to the card: a single page containing just one password and the most needed contacts.
A Mercury t-shirt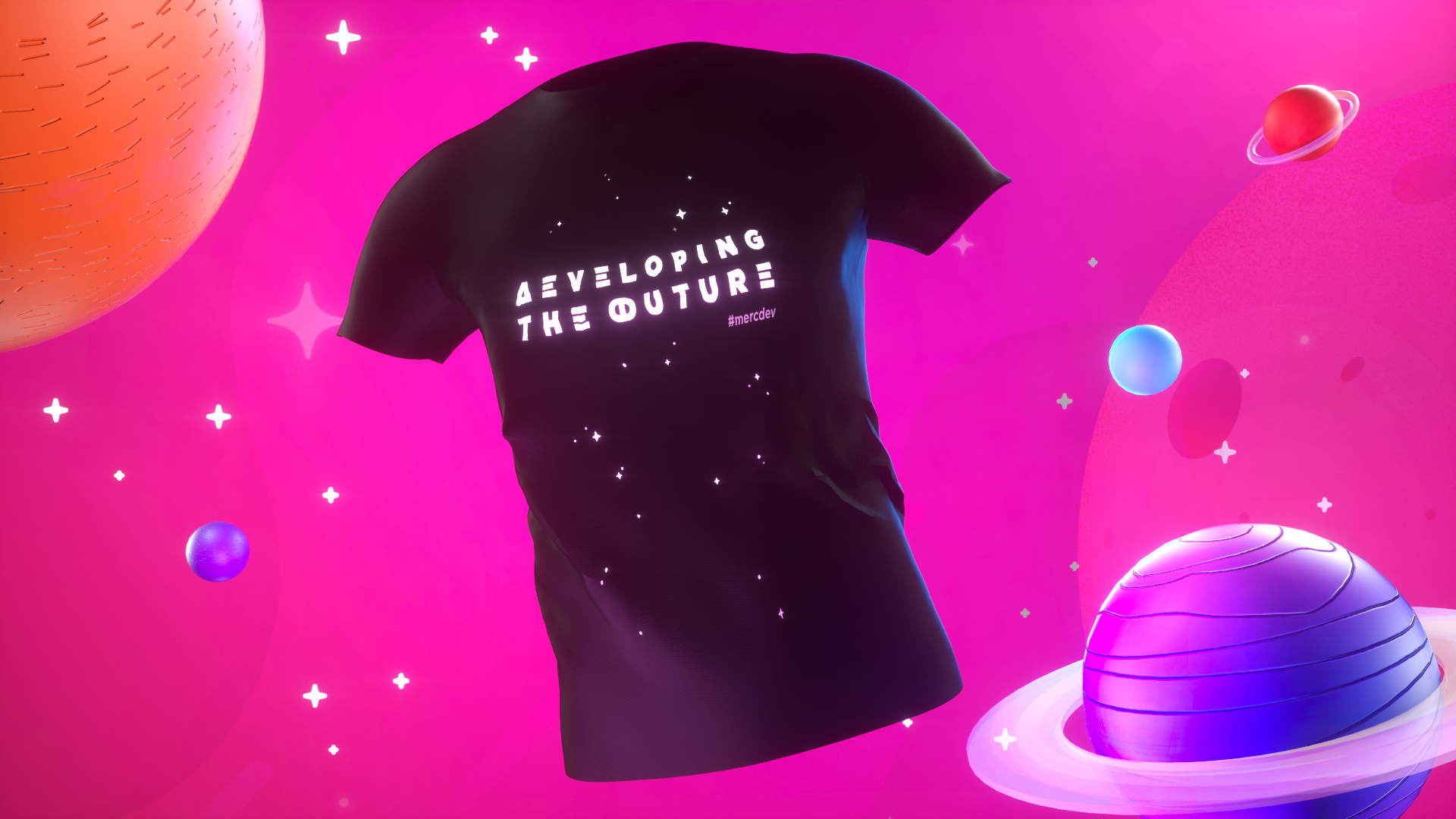 The final addition to our welcome kit was a t-shirt. Each year we create a new design for Mercury t-shirts and hand them out at our summer corporate party; whatever was left used to go to new employees. Still, we decided that we needed a different and unique t-shirt that would only serve as a welcome gift.
Our goal was to create a t-shirt for a person, and not for the company. Instead of the company name or logo, we decided to print our favorite slogan, which is catchy but simple and fits the overall minimalistic style.
The words and the stars glow in the dark – we wanted to radiate more light and stand out in the night. We put the t-shirt and notepad into a shiny vacuum bag for more "outer space" feel.
Why did we go to so much trouble?
Our ultimate goal was to make new employees instantly feel welcome. No matter how experienced a person is, starting at a new job is always stressful. A welcome gift adds a positive note to that overwhelming first-day experience and helps to bond with the team.
Besides, when co-workers notice that a new member of the team has started unwrapping their welcome kit, they will immediately gather around to talk about its contents – and this is a great way to help new employees get to know their co-workers. In addition to that, our employees like to share their impressions of the welcome kit on social networks, which always makes our SMM team (and, of course, everyone who participated in the making of this kit) very happy.
The upshot? A happy first day at work, bonding with colleagues, and new employees' loyalty. Drawing and redrawing those space cats dozens of times was not too much trouble after all.